Isla J's quilt &nbsp (Quilt Completed)
Born:
May 2013
Illness:
Microcephaly, Cerebral palsy

Theme: Fairies

Quilt delivered: 25th Sep 2019
Thank you
We have received Islas quilt! It is absolutely beautiful. We cannot thank the love quilts family enough.
Isla is our little fairy and she has fought chronic health since the day she was born. To receive something so beautiful that has been made just for her is so special. Isla loves her new quilt and so does Mum (almost so much so, Mum is having a hard time deciding whether to hang it on the wall as a display rather than use it!).
I've attached a picture of Isla enjoying her new quilt.
Thank you once again,

Finished photos
Quilted by:
Diana
Individual squares
Fabric
Card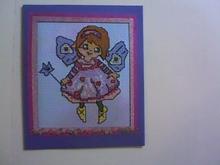 Stitched by: Sarah Warrener
Biography
Isla was born in May 2013, and from the moment she was born things went wrong. Isla could not eat and failed to thrive. She was admitted to Westmead kids at 5 days old and spent the next 6 months in there as her second home. Isla had her first major surgery at 15 days old as her internal organs were reversed and we noticed other things that were different. We had an MRI which told us her brain was underdeveloped and she might not ever walk, talk eat etc. We were told Isla had microcephaly and this would cause a myriad of other issues as a result. To date Isla has never eaten and is actually on a continuous pump through her bowel as her stomach dosen't work. She has a severe intellectual impairment, has spastic quadriplegia, Cerebral palsy and as she grows more and more problems.