Lily D's quilt &nbsp (Quilt Completed)
Born:
August 2005
Illness:
Cerebral Palsy

Theme: Sea life, mermaids, unicorns

Quilt delivered: 5th Dec 2019
Thank you
Thank you so much, Lily was so excited to receive her quilt, its even more amazing than I imagined
Finished photos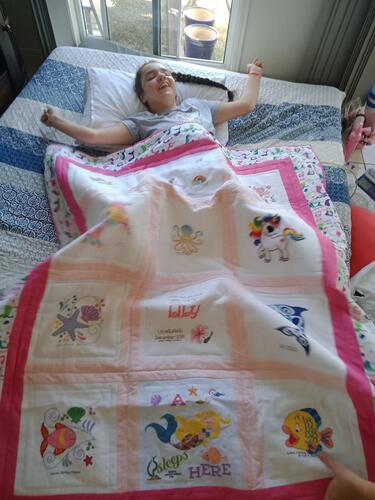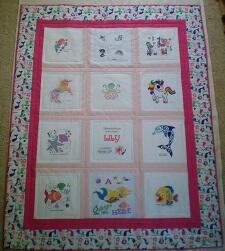 Quilted by:
Diana
Individual squares
Fabric
Card

Stitched by: Beth Filmer
Biography
Lily sustained a hypoxic brain injury after a very traumatic birth.
Since then Lily has spent many weeks each year in hospital mostly due to her chronic lung condition.
At the age of five we had Lily baptized as she was referred to the palliative care team as her medical team believed that Lily was close to dying, thankfully Lily was not ready to leave this life. Since then Lily has endured two major surgeries to release tendons/muscles in her arms and legs/feet.
Lily's Epilepsy also needs her to be hospitalized.
Lily has had a reoccuring chest infection since February, this has required two hospital admissions, and many courses of antibiotic, and three times a day, only being able to attend school a handful of times for a few hours.