Addison-Hope 's quilt &nbsp (Quilt Completed)
Born:
August 2009
Illness:
Hypoglicema & ASD

Theme: Disney princess

Quilt delivered: 5th Nov 2014
Thank you
Today Addi received some mail, this mail came with so much love and it was truly very very special
Today she received a quilt stitched by some wonderful ladies from around the world from Love Quilts Australia.
There was tears (by me) and laughter (by Addi)
She could not stop giggling why she was saying all her favourite princesses names cuddling the quilt and rubbing her face on it (this is how I know she loves it as she rubs her face against my arm to tell me how much she loves me) and the card she couldn't get enough of it all.
So a massive thank you to all you wonderful ladies
Diana Elaine Beth Jan Carol Lucinda Becky Seren Jan R Laurel Beth Donna Judith

Finished photos
Quilted by:
Diana & Val
Individual squares
Card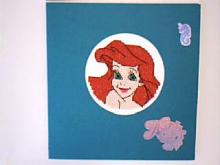 Stitched by: Judith Saebel
Biography
Addison-Hope... but everyone calls her Addi!
She is 4.5 years old and a miracle. So far she has proved all the doctors
wrong when they told mummy I wouldn't start kinder but guess what she is in kinder this year and starts prep next year!

Addi has some abilities some people may call them disabilities you
might of heard of them… so here are just some she has hypoglycaemia , suppressed immune system, high
function autism, sensory processing disorder and dyspraxia.
The hypoglycaemia makes her blood sugars unstable causing her blood sugars to drop very quickly and for no reason this causes her to have
seizures which can be fatal. The older I get the worse my condition will become and to make everyday special.
Even though these abilities may make her daily life and it become difficult at times and the hospital is her second home but she is always smiling happy and a giggling little girl.

At the age of 2 Addi had a massive seizure that lasted over 12 hours she was unresponsive for a further 24 hours this was one of the most scariest experience I have ever had with her after this sezuire is when they diagnosed her and as a single mum with 3 girls is when I desided it was time to move states so Addison could get the best care and brisband had tvs best metabolic doctor in Australia so Brisbane is where we went we left Tassie woth just 3 suitcases and have now been in Brisbane for 2 years now and Addison has come so far she is now verbal and we have her sezuires under control.